Four Exercises to Keep You in Shape that You Can Do Inside Your Apartment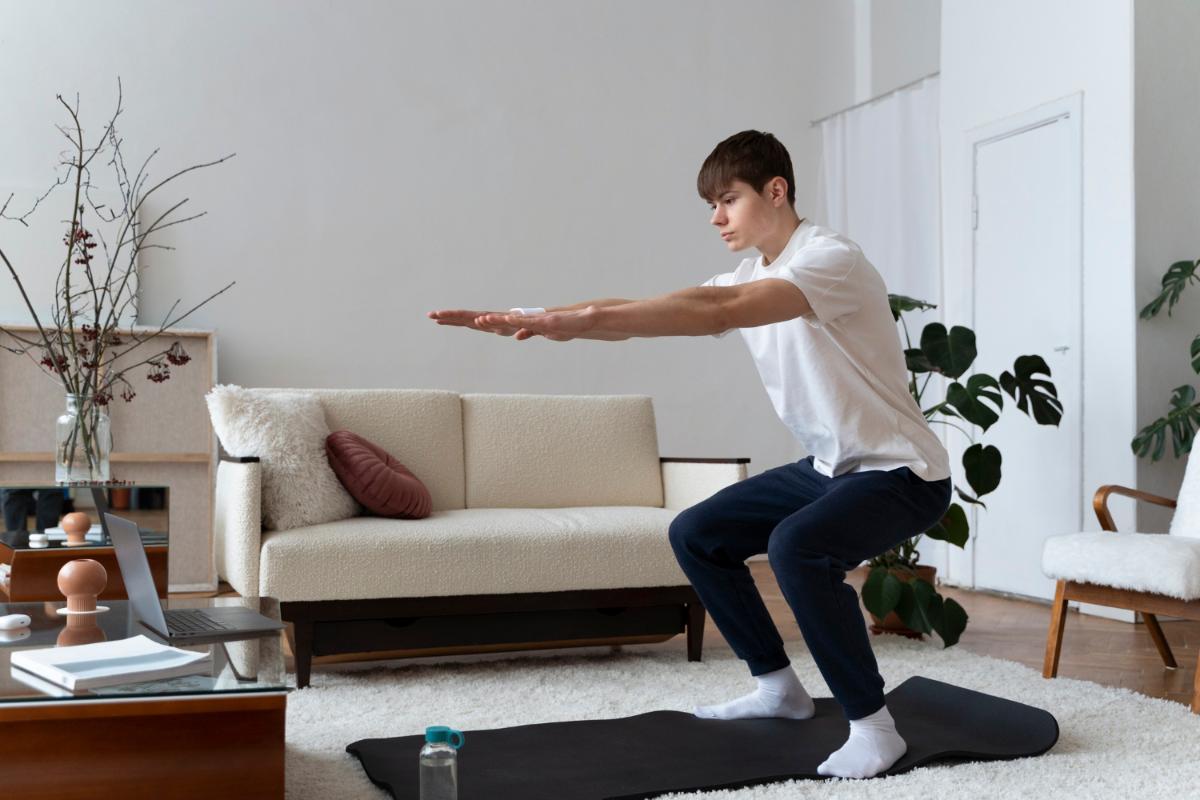 Are you attempting to stay fit when you are living at your apartment? Many gyms are closed, workout classes have many restrictions, and sports have been cancelled, which makes it difficult to find normalcy in your exercise routine. Whether you are a student at University of Florida or you are a nurse working at North Florida Regional Hospital, you will want to find time in your schedule to stay consistent with your workouts. At the Mayfair Gainesville, we take extra precautions to keep our fitness center and amenities cleaned and sanitized to ensure the safety and health of our residents. For those who are looking for a fast and simple workout regimen, there are a few simple exercises that will keep you in shape even while you are inside your apartment.
Squats
Squats are great exercises to work your legs and core muscles, which provides you with strength and balance. Start by standing with your feet hips width apart and your heels evenly on the floor. Stand in an upright position with your back flat. Having the right posture is critical in avoiding injury when you are performing squats. Repeat your squats for one-minute sessions.
Hip Flexor Stretch
This stretch is important for keeping your legs and hip muscles properly warmed up for any physical activity that may follow, such as running or lifting weights. You'll want to lay on a flat surface, bed, or table. Move your leg lower towards the table until you feel a stretch in the front of your thigh. Hold for 30 seconds and then switch legs. Rotate this stretch into your routine for best results.
Bridges
This stretch is great for core strength and balance. Begin by lying on your back with your knees bent. Tighten your ab muscles and raise your hips toward the sky, creating a "bridge" with your body. If you need additional support, use your hands to brace the sides of your hips. Hold this position for five seconds and continue bridging for two minutes.
Hip Rotation Stretch
This stretch is great for avoiding any injuries when you are performing a more intense workout, like HIIT or cardio. You'll want to start by lying on your back with your knees bent. Take one leg and place it crossed over one knee. Use your hand to push your crossed knee away from you until you feel a good stretch. Hold this stretch for 30 seconds and repeat for three minutes, rotating each leg.
These are four common exercises that are easy to do in any amount of space -- even from within the four wall of your apartment. When you live at the Mayfair Gainesville, you will have access to many spacious floor plans and amenities that help you live an active and healthy lifestyle. Contact us to hear about our availability this fall.